I had to wait until January 8th to finally bring back home some FAI paperwork. The Ventus-15m easily offered me four French records, the first out and return of 1.000km in this class and three other records in the same flight:
The speed on this task: 128,7 km/h, t
The distance on three points: 1.187,6 km
The free distance on three points: 1.412,3 km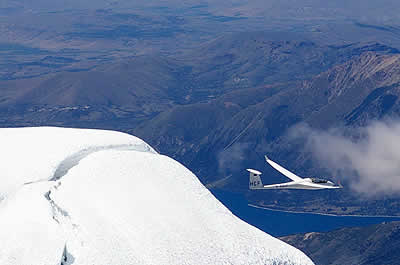 The speed is not meaningful because on the one hand the conditions were relatively weak for this wind (100 km/h), and on the other hand the finish line was crossed 2.800m above the starting  altitude since the flight was supposed to continue for an other 1.000km.
After deduction the 1.000m altitude difference allowance, giving a reduction of the flying time of 33 min at the average Vz of the flight of 1,9 m/s, the potential speed would have been of 138 km/h. Really nothing extraordinary compared to the 203 km/h of the past year with the Nimbus (still unbroken).
Sorry, I'll try to make it better next time! The flight was then interrupted by a deteriorating weather and an oxygen leakage, so I have no regret. No other record of any type has been established or broken during this season by any other team.
"Official" narrative and IGC file here